A short journy of 96 to 85 Kg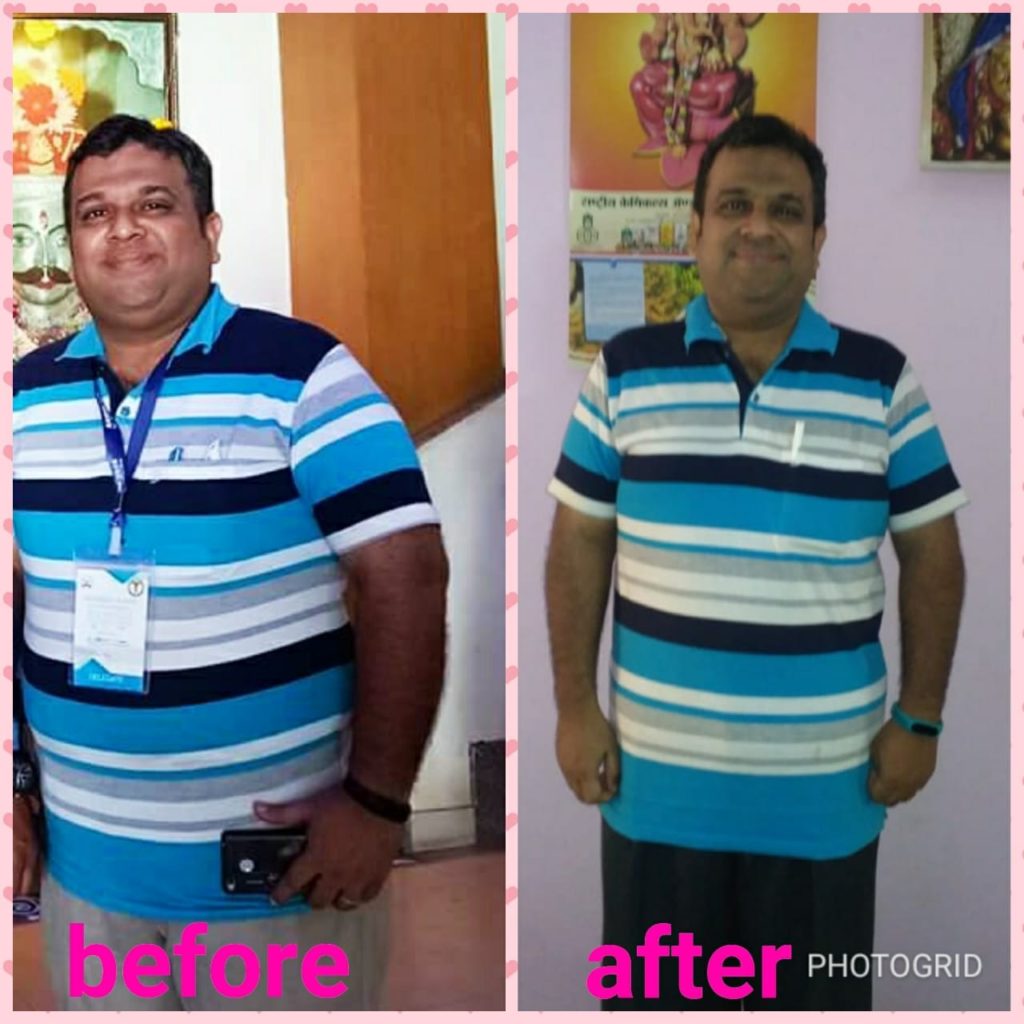 I am Dr. Siddharth Subhash Kulkarni , from That, Alibaug Maharashtra
Mobile:9326846074
Age: 37 years.
Height: 159 cm
I started this diet plan on 5th March 2018. Dr. Nitin Jadhav from Virar informed me about this diet plan by whats app link. When he felt the difference, i saw the video. Initially i was doubtful about the success but decided to follow the diet plan with full faith and publish my success story one day. My other friend Dr. Mr. Rajaram Hulwan followed up with me and encouraged me.
Report compared from: 28th February 2018 to 5th June 2018.
On 28th February 2018:
HbA1c: 6.5
Weight: 100 kgs
Fasting insulin: 20.41
Mean Plasma Glucose: 154
Waist circumference: 118 cm
On 5th June 2018
HbA1c: 5.1
Weight: 88 kgs
Fasting insulin: 14.91
Mean Plasma Glucose: 95.06
Waist circumference: 99 cm
On 5th July 2018
Weight: 85 kgs
Waist circumference: 96 cm
Weight reduction chart date wise-
5th March 2018- 100 kgs
5th April 2018-      95 kgs
5th May 2018-        91kgs
5th June 2018-      88 kgs
5th July 2018-       85 kgs
Waist circumference reduction chart date wise
5th March 2018-   118 cm
5th April 2018-      110 cm
5th May 2018-       104 cm
5th June 2018-        99 cm
5th July 2018-         96 cm
Total 15 kgs weight lost in 120 days and HbA1C reduced by 1.4 and Fasting insulin reduced by 5.5, mean Plasma Glucose was reduced by 58.94, waist circumference reduced by 22 cm just in almost 120 days time. I used to take Tab. Glykind-M twice a day but now take only Tab.Metaformin once a day Note- self medication is dangerous to life.
I take lunch at 8 am and dinner at 4 pm as per my hospital schedule. I take water or butter milk in between. I walk on our building terrace between 6 to 7am or 10.30 pm to 11.30pm.  Initially i started with 45 min walk and now extended it to 1 hour. I cover 110 steps per min or faster than that.i am very much thankful to my wife Mrs. Shreya for on time food and her help. She also follows this diet plan. Her HbA1c has dropped from 6.1 to 5.6.
I take food twice a day. Even if we have to attend social functions, we accommodate those functional dinner/ lunch in two meal times. People and my patients inquire about my new looks, i religiously explain the diet plan to them and help them on messages to solve queries.
 Thanks to Dr. Dixit sir and his team also